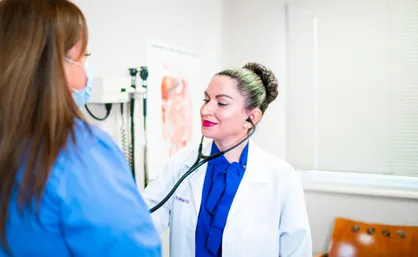 Maria Soliman, PA-C has been a Physician Assistant since 2007. She completed her degree in Physician Assistant Studies from Pace University in 2007 and is board certified by the National Commission on Certification of Physician Assistants. She is a member of the American Academy of Physician Assistants (AAPA), the Gastroenterology Physician Assistants (GIPA), and the New Jersey State Society of Physician Assistants (NJSSPA).
She has been a member of our team since 2013. Before joining us, she spent a year in Emergency Medicine, then worked at an Urgent Care/ Family/Gastroenterology practice, until finally transitioning to Gastroenterology full-time when she joined our practice. She is dedicated to her patients and enjoys developing trusting professional relationships with them. She believes in taking her time to compassionately listen and care for her patients and staying up to date with the latest medical advances.
When she is not working, she enjoys spending time with her husband and three children. They often watch movies together, go bike-riding, and look forward to summer beach trips. She enjoys reading, the arts/theatre, and discovering new shows to binge-watch. Maria is also fluent in Spanish as her roots are from Honduras and Spain - both cultures are very dear to her.
Physician Assistants (PAs) are nationally certified and state-licensed medical professionals. PAs are extensively trained and complete the same prerequisite courses as medical schools. During training PAs complete a total of more than 2000 hours of clinical rotations in a multitude of medical settings. To maintain certification, PAs must complete a recertification board exam every 10 years and complete 100 hours of continuing medical education (CME) every two years.